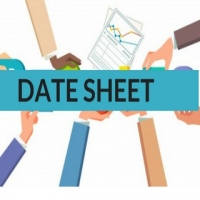 10th Class Open Board Exam Time Table
Last Updated : 19 Feb 2019 | 03:35 PM
Find 10th Class Open Board Exam Time Table for All States Here. Check NIOS, RIOS, RSOS, HOS, CGSOS, MPSOS, JSOS, HPSOS, BBOSE, UPSOSB Time Table / Date Sheet Easily. Date Sheet for Both Practical and Theory Will Be Uploaded to the Website of the Board. Candidates Can Check and Download the 10th Class Open Board Exam Time Table from the Below Maintained Links.
Send me latest Exam & Results by email
Related Questions & Answers
What is the 10th class open board exam time table?

by Shambhu
Anonymous
Answered 01/04/2019
Please go to our "Exam
Tell me, How To get 10 class SSC exam hall tickets 2019?

by Aman
Anonymous
Answered 12/03/2019
Please subscribe admit card alert so that we can notify you
Class 10 open board exam tima table?

by Ruba Nima
Anonymous
Answered 19/02/2019
Exam time table will be d soon.