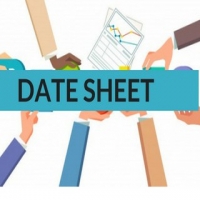 12th Class Open Board Exam Date Sheet
Last Updated : 6 Feb 2019 | 05:39 PM
Find 12th Class Open Board Exam Time Table for All States Here. Check NIOS, RIOS, RSOS, HOS, CGSOS, MPSOS, JSOS, HPSOS, BBOSE, UPSOSB Time Table / Date Sheet Easily. Date sheet for both practical and theory will be uploaded to the website of the Board. Candidates Can Check and Download the 12th Class Open Board Exam Time Table from the Below Links..
Send me latest Exam & Results by email
Related Questions & Answers
I want to know the time table of 12th class open practical exam?

by Shanti Tagru
Anonymous
Answered 01/04/2019
Please go to our "Exam
Where can we find the dates of practical exams?

by Anonymous
Anonymous
Answered 05/03/2019
First of all, choose your open board name link from related links then click on that link to know the exam date sheet.
What is open board?

by Ali Haider
Anonymous
Answered 20/02/2019
Open board exam means exam in which you need not to go to school .just have to give exams.